The journey is part of the experience – an expression of the seriousness of one's intent. One doesn't take the A train to Mecca. –Anthony Bourdain, A Cook's Tour: Global Adventures in Extreme Cuisines
3 months ago I wrote about my professional development journey and eventually becoming a Google Certified Education Trainer. I mentioned that the journey has been a ride full of ebbs and flows, oh what a ride it has been, and it is not over! The beginning of a new school year is always filled with new challenges and excitement. I look forward to it every year! Each day highlights opportunities for students and teachers to take risks, #failforward is a celebrated option now, and use the next day as a reset if necessary.  With this in mind, I decided to take a chance and apply for the Google Innovators Academy in Denmark #DEN18.
Why Should I Apply?
The idea of applying to become part of such a prestigious group of educators is undeniably intimidating. Who am I? What do I have to offer? These are the two questions that were constantly going through my mind as I read emails reminding me of the Denmark Cohort application opening and closing dates. Maybe I should wait and get a few more months of working within my school, the district, in my professional portfolio before I venture out globally. What if I don't get accepted? How will I handle that degree of disappointment?  No matter the outcome, I still will have grown from a year ago, and that, in and of itself, is reason enough to apply.
The Application Process
On September 3, 2018, I downloaded the worksheet associated with the application and I began to answer the questions. I was not prepared for the types of questions asked (they are designed to stretch your thoughts and perspective) and trying to express myself within the expected character limits was an even bigger challenge. Needless to say, I felt overwhelmed and I did not finish the worksheet at that time. Fear and apprehension had taken control and another week passed without me revisiting the worksheet. Next year, I'll try again next year, when I don't feel so out of my league.
An email arrived on September 10, 2018, with a webinar invite for all prospective applicants to go over tips and suggestions for a successful application video plus general information. Unfortunately I did not attend the webinar, but that email reminded me that if I don't at least submit the application, I will spend the rest of the year wondering "what if?". Another week was quickly coming to a close before I began working again on the worksheet. This also meant the September 21, 2018 deadline was around the corner and I needed to get the video together – yesterday.
As much as I talk about #failforward and transparency, I still find myself not wanting to be equally as transparent with others about certain things. However, I do understand the benefit of getting constructive feedback from others, so I invited friends and family to look over the worksheet and give me their opinions, suggestions, and, of course, their well wishes. After I got the feedback, I made the suggested and necessary adjustments to my short answers, those character limits were unrelenting, I uploaded my video, I completed the online application and hit submit.
Now We Wait
So now I'm back in a familiar, yet happily scary, place, as I, along with other applicants, some of them friends from Twitter, wait for the decision the week of October 1, 2018. I know I will be disappointed if I don't make this cohort, I won't give up though, I'll just use it as an opportunity to grow. But if disappointment has to come I'd rather it be because I tried and not because I didn't.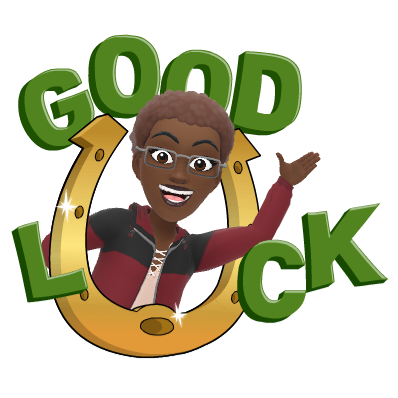 Good Luck Everyone!